United Kingdom
England
LONDON
THE WILLIAM KENT HOUSE AT THE RITZ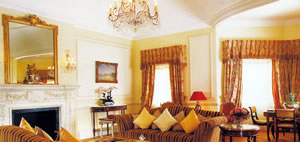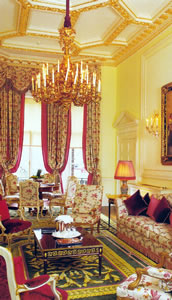 A time will come when my friends will gather together and decide to throw for me a surprise party. They will, I am sure, decide that only the grandest of venues can be used for an occasion of such importance. They will know – for of this I have made no secret since I first entered its portals over forty years ago – that my favourite hotel in London (indeed, perhaps in the whole civilized world) is The Ritz. And now they should also know that this most luxurious of luxury hotels offers for such celebrations one of the most distinguished and impressive rooms in Europe. For The Ritz has now expanded into The William Kent House.
Number 22 Arlington Street is at what most of us would regard as the back of the hotel. If you have walked down Arlington Street, you are unlikely to have noticed it, for it is obscured by a ghastly office block of the 1960s. Yet this was once one of the most notable of London houses, having been built for a Prime Minister and having served, at various times, as the home of the Dukes of Grafton, Beaufort and Hamilton. A handsome pedigree, I think you will agree. Yet there is more. Winston Churchill stayed here as a house guest when he left the Admiralty in 1915, and Evelyn Waugh chose it to appear in Brideshead Revisited (but thinly disguised) as the London home of the Marchmains.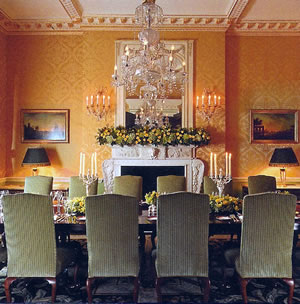 It is astonishing to think that, after the Second World War, its then owners – an insurance company – sought permission to have this remarkable building demolished. (In fact, the proposed vandalism went even further: they wanted to tear down The Ritz itself.) Mercifully, permission was refused, and in 2005 the building was acquired by Sir David and Sir Frederic Barclay, owners of The Ritz. Just as they have brought the hotel back to a peak of excellence, so they have restored this architectural gem in a manner befitting its importance.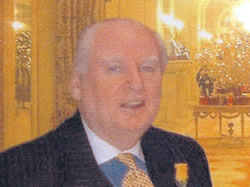 I was shown around by one of the legends of the hotel industry, none other than the genial President of The Ritz, Michael Patrick Day (pictured). When he told me that he wanted me to see what was now on offer, I knew that something special awaited me – for Mr Day's eye for detail and his obsession with seeking perfection make him, in my book, the Hotelier of Hoteliers. But even his enthusiasm did not prepare me for what I found when I went along the hotel's Grand Gallery, turned left and went through the mirrored door into The William Kent House.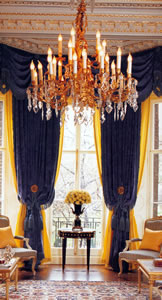 Here was the house into which the Hon. Henry Pelham moved on Christmas Day, 1742. In a few months he was to succeed Sir Robert Walpole as Prime Minister, but I suspect that his new London home must have pleased him nearly as much as his political success. It had been designed for him by William Kent, the brilliant architect, painter and furniture designer, who is credited with the invention of the English naturalistic style of landscape gardening. Mr Kent had given Mr Pelham a town palace of stunning beauty. Over the next two and a half centuries, despite various extensions and additions, the integrity of the original conception survived. Now the house is known by the name of its famous architect.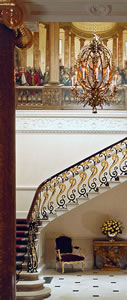 My first joy was to see the Grand Hall, with its marble columns, sweeping staircase and mural depicting a gathering of 18th century worthies. Around the corner was a discreet lift, which took us to the upper floors. Here I found two bedrooms. That is not quite accurate: I found two bedroom suites, which must constitute some of finest hotel accommodation in Britain. Both have views over Green Park. The Prince of Wales Suite is the larger and more expensive (£6,462.50 a night) and has its own spacious dining room. My illustration shows the sitting room, with its finely carved mantelpiece. But my preference was for the Royal Suite (£5,875 a night), for I could not resist its lofty drawing room and its oval bedroom (both pictured). I need hardly point out that the furniture, carpets, drapery and paintings in both suites are of the highest quality.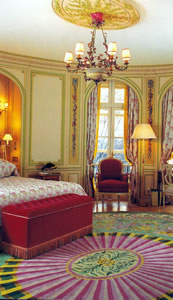 Yet it was back on the ground floor that I caught my breath. Several lofty chambers have been fitted out in a manner which suggests that no expense has been spared in their restoration. My pictures are of the Wimborne Room, with its green dining chairs and crystal chandelier, and the Queen Elizabeth Room, with its dark blue drapes and gilt chandelier. The former is named after a previous owner of the house. The latter name serves to remind us that Her Majesty has already graced these apartments with her presence.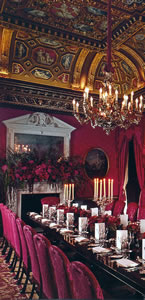 Then my host threw open the mahogany doors on the left-hand side of the Queen Elizabeth Room. And there it was. Originally called The Great Room and now known as The William Kent Room, the chamber I beheld was a vision of remarkable richness and grandeur. From my picture you will note that the impression is of deep red silk and gold leaf. Above is a sumptuously decorated ceiling in the style of the Italian Renaissance, one of the finest works of William Kent. To eat at the great mahogany table in this splendid setting must be very special indeed.
So, to help my friends with their planning, I sought out the excellent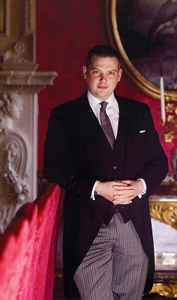 Matthew Rivett (pictured), the Operations Manager of The William Kent House. He explained to me that the ideal arrangement (I am thinking of about 30 guests) would be to hire, for the evening, the Queen Elizabeth Room for pre-prandial drinks and The William Kent Room for dinner. This would cost £4,000, inclusive of VAT and service. The food and drink would, of course, be extra. From my perusal of the menus, I would favour five courses: asparagus, foie gras, monk fish, pigeon and citrus parfait (£103 a head). From the wine list, I would select 1998 Dom Pérignon (£240 a bottle) for the champagne, 2005 Cloudy Bay sauvignon blanc (£45) for the white, 1994 Stag's Leap cabernet (£138) for the red and 1988 Yquem (£500) to go with the foie gras and with the pudding. Two from France, one from New Zealand and one from California – just right in this sophisticated setting.
I expect I might have to wait for quite some time before my surprise arrives. Those of you seeking London's finest venue for your private function or the city's most delightful overnight accommodation, however, need brook no further delay. The William Kent House at The Ritz is now open for business.
---
ADDRESSES
THE WILLIAM KENT HOUSE AT THE RITZ
The Ritz, 150 Piccadilly, London W1J 9BR, England.
Telephone +44 (0)207 493 8181
Fax +44 (0)207 493 2687
Email: enquire@theritzlondon.com
www.theritzlondon.com