FRANCE
NICE
RESTAURANT KEISUKE MATSUSHIMA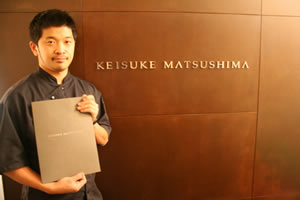 Keisuke Matsushima must have been a remarkable little boy. At an age when many youngsters are dreaming of becoming footballers or film stars, he knew that he wanted to be a chef. He was in Tokyo. But he did not have any ambition to cook Japanese food. He wanted to be a great French chef. At the age of twenty he moved to France. In Nice, on his twenty-fifth birthday, he opened his first restaurant. In its third year it was awarded a Michelin star. The dream had been fulfilled. But the restaurant was tiny, so – in November, 2006 – he moved to larger premises. Three months later, that all-important Michelin star was shining once more over his kitchen. Clearly, I had to pay a visit.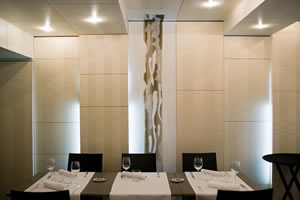 The outside of the restaurant is discreet to the point of serious self-effacement. It is in a row of shops in a street one back from the busy Promenade des Anglais, not far from the Hotel Negresco. Had I not been in the company of someone who had sought it out earlier, I could easily have walked straight by. Inside, the tones are of grey, brown and black and the waiters wear black aprons. The room is of a modest size and the atmosphere – despite (or perhaps because of) some seriously unpleasant canned music of the 'pop' variety – is subdued. This would be an ideal place for some carefully placed overhead spotlights, for they would draw attention to the attractively presented food which comes from Mr Matsushima's kitchen. Instead there are many tiny bulbs in the ceiling, which impart a slight feeling of stars in the night sky.
All the dishes on the carte (except the truffle risotto at 50 euros) appear on the set meals. These go from 35 euros for three courses to 88 euros for six courses. I had four courses.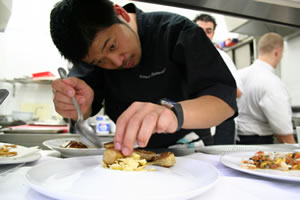 My first dish showed at once why the chef from Japan is so highly regarded – indeed, it was a truly impressive start to the meal. This artichoke risotto, with little onions, parsley and onion juice was such an intelligent combination of flavours and textures and had been so expertly and precisely cooked that I knew that I was in safe hands. And the second course was even better: red mullet, with the flesh of the fish so perfectly set off by the addition of confit of lemon. There followed thin slices of beef, in the manner of mille-feuille and then a fennel sorbet with orange jelly.
Prices on the wine list go from 33ε for a white from Languedoc-Roussillon to 3.450ε for the 1998 Pétrus. Other bottles to catch my eye were: 1982 Cheval Blanc (2,350ε), 1985 Mouton Rothschild (785ε), 1989 Latour (840ε), 2005 Grange des Pères (145ε) and 2001 Bâtard-Montrachet, Leflaive (345ε). There are many bottles available in the lower price ranges, and wine pairings are offered with the set meals at moderate additional prices.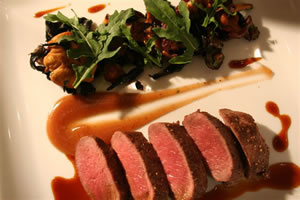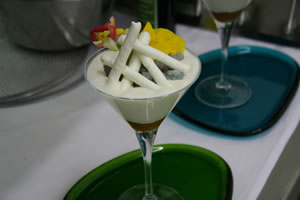 ---