CALIFORNIA
SAN FRANCISCO
RANGE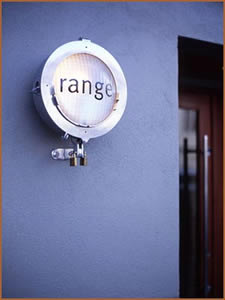 The prospect of dinner in a new restaurant is always intriguing. But, occasionally, it brings to me an overwhelming belief that I am going to enjoy myself. My powers of self-analysis are too feeble for me to know why this happens. But here was what I knew about this dining room before I set off in the taxi. It was opened by a husband and wife team in 2005 in an up-and-coming area of San Francisco. Its cuisine was described as 'new American'. It was modest in size, with just 70 seats. Its décor had an industrial theme, with a bar-top made of polished concrete. It had banquettes of brown leather. And it had been awarded a Michelin star. Ah, you will say, that star gives the game away. But it does not, really – for I have been to plenty of Michelin-starred restaurants which did not fill me with joy. Still, the real question is: Did I like Range? And the answer is: No, I didn't like it. I loved it.
The Mission District of San Francisco still has enough 'interesting' persons about its streets to deserve the epithet 'colourful'. But signs of its increasing social status are everywhere. And chief among them must be Range. Its exterior is smart, but it is possessed of a charming modesty. And this, I suspect, gives us the clue as to why it is so highly regarded. A lesser place would be more pretentious in all sorts of ways, but here there is the self-confidence which does not need to shout. The people at this restaurant know that their food is based on fine ingredients, simply and expertly cooked, and that they are involved in an enterprise with high standards. I felt this as soon as I walked in, to be greeted in the friendliest of manners.
Clearly, due credit must be given to Mr and Mrs West, Phil and Cameron, who certainly know how to run a restaurant. I walked through the front bar and down a corridor, past windows into the kitchen, and found myself in the rear dining room. Here there was at once an example of the professionalism of the staff. I suffer with a bad back and therefore now travel with my own cushion, to relieve the problems of my lower spine. No problem there. But I am also a little hard of hearing, and I knew at once that in this crowded and busy chamber, with its metal-topped chairs and beamed ceiling, I would have the greatest difficulty in conversing with my companion if we were obliged to sit opposite each other, which is how all the tables were arranged. Kate, our wonderfully pleasant waitress, thought, paused for a moment and then proceeded to push furniture this way and that, until - Voilà! - a table was available for us at which we could sit on the angle without causing inconvenience to our fellow diners. This was kind and impressive service.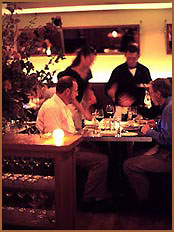 Thus comfortably settled, I examined the decent glassware (which was without a name), reconciled myself to the canned jazz (which was of the inoffensive kind) and decided that I liked both the subdued colour scheme (of brown and green) and the uniforms of the waiting staff (black shirts and white aprons). I also approved of the diligence with which the waiters and waitresses re-folded the napkins of those guests who left their tables for a moment.
The menu at Range is market-driven and therefore changes each day. This is exactly how it should be in a restaurant of this sort. Mr West is a chef of real talent. His unfussy, direct approach reveals the true tastes and textures of his ingredients. But there is subtlety here, too, in the careful combinations on his plates. It would be very difficult indeed not to enjoy this cooking.
I began with French butter pears with goat's cheese, hazelnuts and arugula – simple, pretty and delicious. Next, intensely flavoured chicken liver mousse came in a white pot. I found the curly endive a distraction, but how clever it was to serve with the mousse gorgeous fried bread instead of the usual (and usually boring) toast. My main course was substantial in its quantity and substantial in its delivery of enjoyment to my palate. This pan-roasted lamb sirloin was seriously good meat, and was made even better by the accompanying butter beans and mint purée. My pudding was a tip-top apple tart with blackberry ice cream. (Allow $50-$55 for four courses.)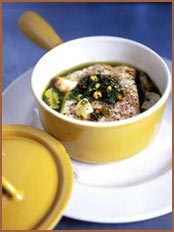 Another example of the waitress's kindness and efficiency now occurred. My companion suddenly realized that some beetroot juice had found its way onto a rather expensive jacket. Immediately, the blessed Kate rushed off, returning with some soda water which erased the stain. This lady deserves a gold star.
The wine list is short – with 75 bottles and 16 wines by the glass – but interesting, with a mixture of offerings from the New and Old Worlds . Prices range from $28 for a white Côtes du Rhône to $170 for the 2005 Williams Selyem pinot noir, Rochioli Riverblock Vineyard. My white was a beefy Russian River chardonnay of toast and discreet fruit (Dehlinger, 2005 - $68), and my red was the 2003 Château Beychevelle. Even in the half-bottle, this famous St-Julien was very enclosed, so it was decanted. Thirty minutes thereafter it yielded delightful layers of mint and blackcurrant ($60, half).
I left a happy fellow. I was right to suppose that my dinner was going to be a success. Of course, now that I have been, the element of surprise cannot be re-captured. But henceforth there can be something just as good: the certainty that my next visit to Range is going to be truly enjoyable.
---
ADDRESSES
RANGE
842 Valencia Street (between 19th and 20th Streets), San Francisco, California 94110, U.S.A.
Telephone +1 415 282 8283
Fax +1 415 282 8828
www.rangesf.com
Open daily for dinner.