FRANCE
ST TROPEZ
RESTAURANT L'OLIVIER, LA BASTIDE DE ST TROPEZ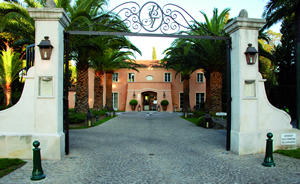 There is one little town I love above all others on the French Riviera. It is St Tropez. I did not know it when it was an undisturbed fishing village. Perhaps I would have been captivated by its innocent prettiness. I only came after it had become a magnet for film stars and the beautiful rich. Sadly, I fall into neither category. Still, it was immensely pleasurable to glide about its narrow streets in my beautiful 1963 Rolls-Royce, adding, as I hoped – and in my own modest manner – to the general gaiety and elegance of the place. Then the Royce 'declined to proceed' on one of my journeys to the South, and I decided that her age required her to stay in Blighty. And now, in any case, I notice that the amount of traffic would upset her. But back to St Tropez I go – for the sunshine, for the beauty and for the wonderful places like the Restaurant L'Olivier.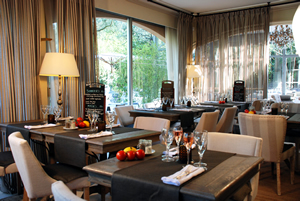 This dining room lies within the well-regarded hotel, La Bastide de St Tropez, which is outside the town and has the appearance of an exclusive villa, set within verdant gardens. As I stepped from the motor, I certainly felt as if I had arrived at a very plush and very verdant retreat. I was met at the door by the Director, Fabien Delaffon. He is (justifiably) very proud of his property, and took me on a tiny tour. Mr Delaffon is a charming fellow and is full of enthusiasm for La Bastide. I liked what I saw.
And I liked the comfort of the restaurant. I settled myself into a good armchair, under a crystal chandelier, and surveyed the scene. The colour scheme was grey and white, the napery was crisp and white and the sparkling glassware was by Boromelli. I felt that the evening would be a good one. And it was – not least because of the splendid service I received from the 2nd Maitre d', Marco Stefanini. He looked after me with exceptional courtesy and friendliness. Mr Stefanini is from Genoa, and I will observe that Genoa's loss has been St Tropez's gain.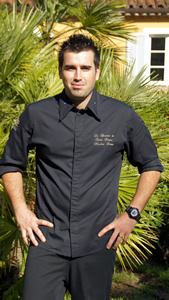 L'Olivier is also fortunate in its chef, for Nicolas Sintes (pictured) is a cook of real talent. His dishes can be quite complicated, but they are constructed with intelligence and with respect for the ingredients. There is no silly faddishness here, but rather the determination of a young, energetic chef with an educated palate to adhere to the traditions of haute cuisine – and for that I salute him. He has worked with Daniel Boulud in New York, and the refinement of the cuisine here reminded me of the refinement of the dishes I have enjoyed from the kitchen of that great chef.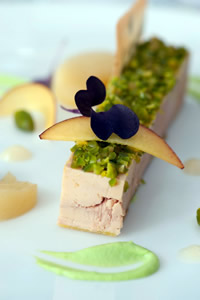 I began with tomatoes and ham. This sounds absurdly simple, but the ham was the Pata Negra ham from Spain and the tomatoes were some of the traditional (and very tasty) varieties which are now becoming rare. This dish was a satisfying and refreshing start to my meal. Then it was something altogether richer: terrine of duck foie gras with almonds, figs, almond jelly and brioche. I like my foie gras, so I appreciated the generous size of this portion of liver. My main course was a breast of chicken with summer truffles and "old-fashioned" vegetables. The latter had clearly involved a great deal of work, but they worked excellently with the well-cooked fowl. I ended with a riot of textures and flavours – roasted cold peaches, pannacotta with verbena and light oat crumble. (These four courses were 77€.)
The wine list offers 190 bottles, 13 magnums and 35 half-bottles. All are French. Prices run from 32€ for a red from the Languedoc to 2,350€ for the 1990 vintage of Chateau Margaux. Other bottles to catch my eye were: 1995 La Mission Haut Brion (850€), 1999 Giscours (175€), 1990 Ducru Beaucaillou (495€), 2008 La Tâche (1,540€) and 2008 Chasse Spleen (85€). For my own drinking, I went for the lovely soft creaminess of the 2000 Comtes de Champagne blanc de blancs from Taittinger (195€) and the austere black fruit of a 2007 Cornas (Vieilles Vignes, Alain Voge – 94€).
I left the Bastide with the thought that the Restaurant L'Olivier embodies what I like about this town: its prettiness, its sense of style and its joie de vivre. Long live St Tropez!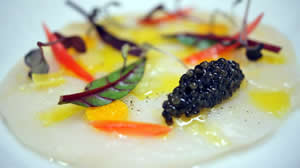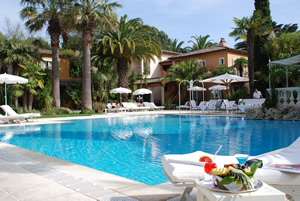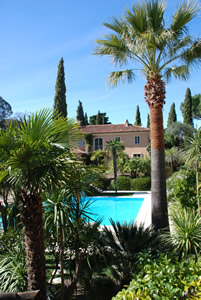 ---
ADDRESSES
RESTAURANT L'OLIVIER
La Bastide de St Tropez, 25 route des Carles, 83990 St Tropez, France.
Telephone +33 (0)4 94 55 82 55
Fax +33 (0)4 94 97 21 71
Email: contact@bastidesaint-tropez.com
www.bastidesaint-tropez.com