UNITED STATES
CALIFORNIA
CARMEL-BY-THE-SEA
L'AUBERGE CARMEL & RESTAURANT AUBERGINE
CANTINETTA LUCA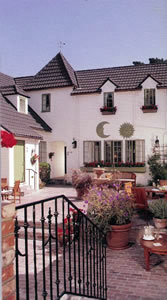 Like the well-brought-up critic I am, I must open my review with a declaration of interest. The proprietor of L'Auberge Carmel and of the Cantinetta Luca is a friend of mine. But, before you dismiss the following words as lacking in objectivity, I should stress that our friendship began precisely because he is an hotelier and restaurateur of the very finest sort. Indeed, I first met David Fink (pictured) years ago when he was the General Manager of the Highlands Inn, near Carmel. There he was the brilliant moving-spirit behind the magnificent annual Masters of Food and Wine event. (I still have the fondest memories of tastings led by Monsieur Engerer of Chateau Latour, by Monsieur Moueix of Chateau Pétrus and by Signore Gaja, and of dinners prepared by teams of top chefs from France.) Now it is a joy to see him as the proprietor of his very own establishments.
One of them, housed in a handsome building of 1929, is L'Auberge Carmel. It has rapidly matured into one of the finest small hotels in California. With its white and green colours, abundance of flowers and complicated roof-line, externally L'Auberge is reminiscent of a village inn in Alsace. Inside, however, all is sophistication and pampering.
I found room 15 on the ground floor (check the rates for specific dates), overlooking the fountain and the stone elephant, both of which reside in the building's pretty inner courtyard. This apartment was very much to my taste. Its tones of grey and brown were soothing and its armchair was comfortable. I soon discovered, too, that my huge mahogany bed was wonderfully soft and that its sheets were silkily smooth. The black and white photographs on the walls depicted the countryside and the sea, for I was only four blocks from Carmel beach and the Pacific Ocean. In the wardrobe were a private safe, an iron and ironing board and my hanging space. Quirky decorative pieces – like ancient keys in a picture frame – created an atmosphere both interesting and welcoming. And my bathroom was pleasing, too – with its copper wash basin, large oval tub, separate shower and abundance of fluffy white towels.
It was a delight to sit in my apartment in the mornings, with the wireless tuned to 103.9fm (the classical music station), and enjoy a bit of Haydn, as a soft breeze wafted through the open windows. (The rooms at L'Auberge do not have air conditioning, but the gentle climate of Carmel has never allowed me to regret its absence.) On one such morning I bumped into the efficient hotel manager, a fine young man from Munich called Andreas Juhnke. My camera was to hand, so I took his photograph, as he stood next to the hotel sign. (The result I now present to you.) Then I proceeded to breakfast.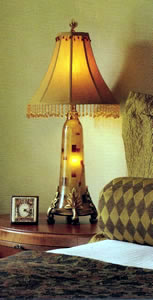 At L'Auberge the breaking of the fast takes place in the small dining room. It differs each day. One typical breakfast consisted of a glass of fresh orange juice, bacon and poached eggs, yoghurt with cherry compote, croissants, peach jam and coffee. These items – all of the highest quality – were brought by waiters and laid on fine white tablecloths. There was some canned music, true, but it was Tchaikovsky, so I marked it down as a plus rather than a minus. The effect is very much what you would expect of a grand, Michelin-starred 'restaurant-with-rooms' in France.
The comparison is apt, for this small dining room (it has only 12 tables) is, in fact, the Restaurant Aubergine, the domain of Executive Chef Christophe Grosjean (pictured). The Michelin inspectors have not yet ventured as far south in California as Carmel. If they did, they would certainly be reaching in their bags for stars after their visit to Aubergine.
Monsieur Grosjean comes from the Franche-Comté region of France, and used to work with Chef Cal Stamenov at Bernadus Lodge in the Carmel Valley. He is a brilliant chef, and it will be a significant moment for Carmel when - as it seems will shortly be the case - he leaves to return to his family's establishment near Biarritz. California's loss will certainly be France's gain. (Yet I have every confidence that the well-connected and expert David Fink will find a worthy replacement to man the stoves.) Four courses are offered for $89 and five courses for $110.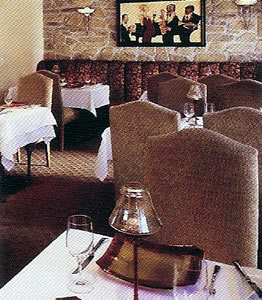 I found Mr Grosjean's cuisine to be startlingly good. (My only regret was that the portions were smaller than I would have liked.) The presentation was exquisite, the quality of the ingredients could not have been bettered and the balance and harmony of the flavours and textures in each dish showed real intelligence. Indeed, the highest culinary skills were evident throughout the meal, which was marked by pretty presentation and expert execution. Sitting at the good-sized table next to the French window, with spotlights overhead and paintings of musicians in the Art Déco style on the walls, I watched the waiters in black tie carefully going about their business (replacing the napkins of diners, of course) and knew I was going to enjoy my dinner.
Tender, sweet lobster came with tarragon, summer truffle and butter sauce, and caressed my mouth with lusciousness. Delicious terrine of foie gras came with poached black mission fig, pistachio and brioche, each element adding its proper contribution to the whole. The roasted loin of lamb was yielding and full of flavour, and accompanied by fresh cannellini beans, garlic confit and tomato. I finished with shaved peaches, consommé, tapioca pearls and olive oil sherbet – a plate which spoke eloquently of the kitchen's capacity to achieve delicacy and refinement.
Wine Director Thomas Perez has built up a list with 450 entries, with prices ranging from $44 for a Sardinian white to $6,495 for 1971 La Tâche and $6,750 for 1945 Lafite. There is so much of interest here that a pleasant afternoon could be spent just perusing the delights which might be opened in the evening. For fans of white burgundy, there are 14 offerings of Meursault and 27 of Chassagne Montrachet. Nor is the claret lover neglected: 1959 Haut Brion is $4,525, 1961 Mouton Rothschild is $3,660 and 1982 Latour is $3,525. Into the Schott glasses the sommelier, a gentleman from Croatia, poured one of the German low-alcohol rieslings whose elegance and hints of petrol aromas I like so much (Grans-Fassian, kabinett, 2006 - $14, glass). Then came an intriguing granache noir from Spain, with cherries and lots of perfume (Arrels, 2005 - $75) and, with the pudding, the star of the show – a wonderful example of balanced sweetness and acidity, with only 6% alcohol, from the Mosel (riesling Auslese, Erben von Beulwitz, 2002 - $65, half).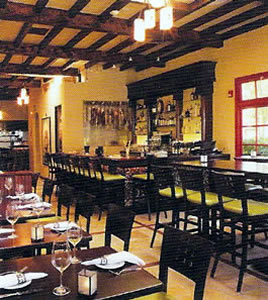 I found less formal wining and dining at Cantinetta Luca, Mr Fink's Italian restaurant in Dolores Street. Here the emphasis is on rustic presentation and the décor makes much use of wooden beams, stone, brick and glass. This is a very popular place indeed, and the sound from all the enthusiastic diners and the canned music can take the noise level rather high. But do not be put off, for the eating is of a high order and the service is friendly and efficient.
From the open kitchen Executive Chef Jason Balestrieri sent to my table in the window (one of the quieter corners) some really impressive dishes, offering superb ingredients, simply prepared to emphasize their bold, direct flavours. Prosciutto with organic figs and melon was first class. (Cantinetta Luca offers some really good prepared meats, which are cured in-house.) Tagliolini with peas, pancetta, sun-dried tomatoes and melted shallots was everything you would want in an Italian restaurant. The main course was half a chicken, roasted with lemon and rosemary and brought to the table in a red pot. With servings of spinach and broccoli, this was a dish for an enthusiastic trencherman. My pudding was strawberries with vanilla panna cotta, balsamic vinegar and black pepper. (Allow around $60 or 4 courses.)
The wine list is a dazzling array of Italian bottles (and 25 offerings by the glass). Thomas Perez is also responsible for this cellar. And there he was by my table – as always, the friendliest and most affable of fellows – to sort out for me a glass of vanilla-laden Tuscan chardonnay (Cabreo, La Pietra, 2007 - $16) and a bottle of big, muscular barbera d'asti from Piedmont (La Spinetta, Ca di Pian, 2006 - $67). It was a joy to see Thomas again and to benefit from his expertise.
Carmel-by-the-Sea is one of California's gems. Its charms rightly attract many visitors. Thanks to the talents of David Fink, those visitors can enjoy hospitality of the very highest order – at L'Auberge Carmel, Restaurant Aubergine and Cantinetta Luca. I am proud to call this fine man my friend.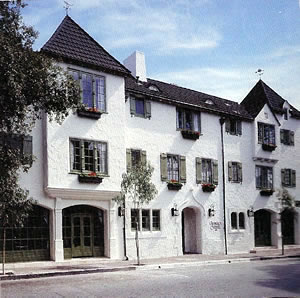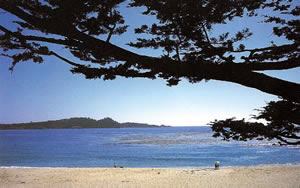 ---
ADDRESSES
L'AUBERGE CARMEL & RESTAURANT AUBERGINE
Monte Verde at Seventh, Carmel-by-the-Sea, California 93921, U.S.A.
Telephone +1 831 624 8578
Fax +1 831 626 1018
www.laubergecarmel.com
Check rates for specific dates. Expect to pay from $300 for a double room with breakfast.
Restaurant Aubergine – breakfast and dinner daily
CANTINETTA LUCA
Dolores Street (between Ocean and 7th), Carmel-by-the-Sea, California 93921, U.S.A.
Telephone +1 831 625 6500
www.cantinettaluca.com
Lunch and dinner daily