FRANCE
JOIGNY
LA CÔTE ST-JACQUES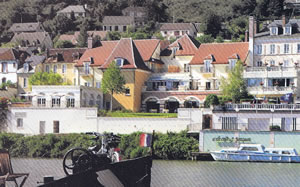 I have the privilege of meeting many wonderful people in my travels. Those who strive for absolute perfection in kitchen or in hotel include some of the finest personalities you could possibly encounter. Jean-Michel Lorain, for example, is a gentleman – and I use that word carefully – for whom I am full of admiration. Mr Lorain is, indeed, a hero of French gastronomy. At 27, he was the youngest chef ever to be awarded three Michelin stars. Since then he has had his difficulties – including, for a brief time, losing his third star – but he has sailed through them with courage, determination and supreme talent. There is no question whatever that he is one of the best chefs in the world, and yet there is a beguiling modesty in his manner. At his splendid hotel and restaurant – in Joigny, one hundred miles South of Paris, at the beginning of Burgundy – he ensures that each plate which leaves his kitchen delights the eye and caresses the palate. No wonder that every gourmet worthy of the name longs for the day when he can visit (or return to) La Côte St-Jacques.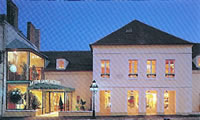 There is therefore always a frisson of excitement when I apply the brakes and the Royce and I glide to a majestic halt outside the door of number 14 faubourg de Paris. So many grand people come here, attracted by the gastronomic wonders, the elegant accommodation, the cookery school and the swish new spa, and yet the kind people on the Reception desk never look less than excited to see me. (I suspect they greet all their guests with the same smiling enthusiasm.) This must, I think, be a happy place in which to work. And why should it not be? It overlooks the River Yonne; it is impeccably furnished and decorated; and it is famous wherever French gastronomy is celebrated. What is there not to like?
I was soon in apartment number 25, on the ground floor – a 'River View Room' and therefore 484 euros a night, bed and breakfast for two. (This, as is the case with all the 32 rooms here, is very good value.) All around, French chic abounded. A handsome wooden door led into the corridor hall, off which was a mirrored door into the loo, wherein was a bidet. (There were lots of mirrors about the place, an abundance which reinforced the feeling of spaciousness.) Then came clear glass panels – behind which was the hanging space for my clothes. Around the corner was the room proper, in which creams and subtle tones suggested calm and relaxation. Within a large bay window of plate glass was enough space for two easy chairs and a dining table with three upright chairs. The view took in the river and the gently sloping hills beyond.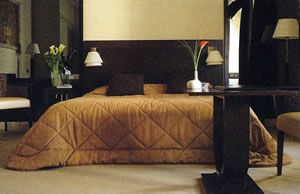 Beige marble and 25 spotlights created a suitably theatrical setting in the bathroom for my pre-prandial ablutions. Here I was able to soak in the large tub to the strains of Elgar – from the cd player in the bedroom. The Dream of Gerontius really does make me feel dirt-free – spiritually and physically. Thus cleansed, I dressed in a suit from Savile Row, adjusted the silk tie within my stiff white collar and sallied forth for dinner, eager once more to be in the shiny copper lift which transports guests down to the dining rooms.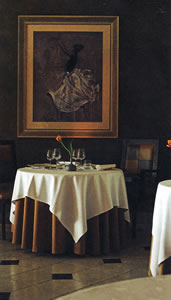 La Côte St-Jacques offers a comfortable environment in which to enjoy the pleasures of the table. The surrounding colours are warm, the tablecloths are white, the armchairs are upholstered in leather and are properly supportive, the waiters are in black tie and the glassware is by Riedel and (a maker new to me) Mikasa. As you would expect at this level, the napkins of those diners who leave their places for a moment are immediately replaced. I was looked after exceptionally well throughout the evening by David Plant and by sommelière Virginie Millot (assistant to the Chef Sommelier, Arnaud Laplanche). All was as it should be.
Indecision is not among my many faults, but I was – as I knew I would be – slightly hesitant when I read the menu. Everything on the card was so tempting. Of course, I could have solved this little problem by choosing the Menu Surprise (210 euros), but I do not like gastronomic surprises, for there is too much pleasure to be had from the anticipation of what is to be eaten in a great restaurant. Or I could have gone for the six-course Menu Gourmand (170 euros), but I am no longer a fan of so high a number of courses. So I allowed myself a few minutes of agonizing, of the exquisite sort, before I announced my choice to Mr Plant. And my decisions brought forth wonders.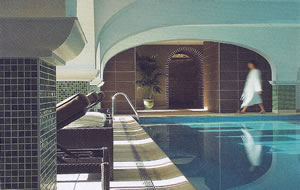 I began with millefeuille of pan-fried foie gras, with green asparagus, gribiche sauce and dried fruits. Many, many years ago – in the bloom of early manhood – I tasted my first hot foie gras at a restaurant in Battersea. It converted me in an instant to the joys of the fattened liver; and it was served with asparagus. I knew therefore that the combination before me was a winning one. But the brilliance of the dish was the adding of the sauce and the dried fruits. The flavours and textures from the large glass plate were breathtaking: subtle, delicate, luscious and perfectly balanced. This must, I thought, be the highlight of the meal. But my second course was, astonishingly, just as good. The lukewarm crayfish salad, with veal sweetbreads and chanterelle mushrooms in jelly, yielded flavours which were much stronger and richer than those of the first course, but there was the same perfect balance. Clearly, this kitchen had intelligence and talent in remarkable abundance.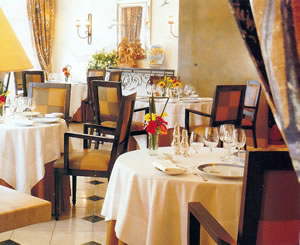 And it was at work in the conception of the main course. The roasted duck was tender and full of taste, but it was the partnership with poached peach, Sumac spice, tulip cabbage and peach chutney which elevated the whole so effectively. Then I ended, as I so often do, with a soufflé – this one of lime, with raspberry ice cream and sorbet. (These four courses from the carte were 224 euros.)
At a three-star restaurant in France, you would expect to find a cellar full of the finest examples of French wine-making. At La Côte St-Jacques your expectation will be fulfilled. The list has over 800 offerings, ranging in price from 23ε for a 2007 white burgundy aligoté to 5,040ε for the 1990 Pétrus. There are wonderful burgundies – like 2000 DRC Montrachet (2,885ε), 1988 La Tâche (1,926ε) and 2000 Romanée-Conti (3,095ε) – but my eye was caught more by the collection of old clarets, from which I will mention just four: 1928 Cheval Blanc (3,800ε), 1928 Haut Brion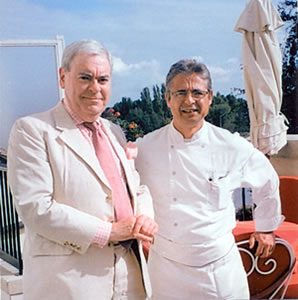 (3,900ε), 1934 Maraux (2,290ε) and 1945 Lafite (3,500ε). For my own drinking, Madame Millot suggested a clean, fresh, minerally 2006 Chablis with a hint of mint (Vaillons 1er Cr, Baillaud-Simon - 65ε) and a red burgundy with a farmhouse nose and plenty of fresh, red fruit (Chambolle Musigny, Arlaud - 42ε, half).
After this feast, I supposed that I would want little breakfast the following morning. I supposed erroneously. In a room by the garden, once more overlooking the river, I tucked in like a good trencherman to pastries and breads, apple juice, fruit salad, cheeses, smoked salmon and boiled eggs with toast soldiers. This was a handsome breaking of the fast.
And then, sadly, it was time to go. The previous day the Silver Cloud's battery had been low – it transpired, when I was back in Blighty, that the dynamo was on its last legs – so a helpful member of the hotel staff had produced a battery charger and set it to work overnight. Thanks to his kindness, the Royce started at once and I began to glide smoothly along the faubourg de Paris, away from this temple of culinary excellence. As the miles went by, I reflected once more upon the privilege of meeting great chefs. And, in my judgement, there is none greater than Jean-Michel Lorain.
---
ADDRESSES
LA CÔTE ST-JACQUES
14 faubourg de Paris, Joigny 89300, France.
Telephone +33 (0)3 86 62 09 70
Fax +33 (0)3 86 91 49 70
Email: lorain@relaishateaux.fr
www.cotesaintjacques.com
Double rooms from 185 euros, breakfast extra (34 euros)