Italy
VENICE
RISTORANTE LA COLOMBA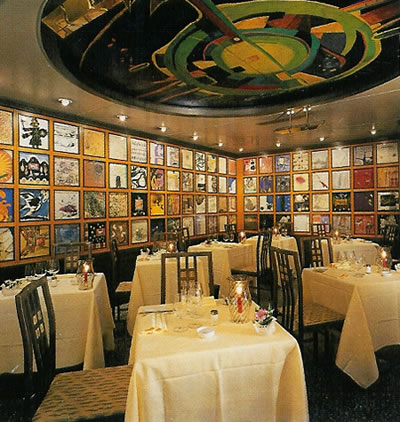 Art is food for the soul. And food itself can be a form of art. So I think I can be excused for liking restaurants which have pictures. The walls of my own dining room are hung with paintings of the English countryside and portraits of cardinals and kings. Occasionally, kind visitors have opined that there are too many of them. But my humble chamber cannot compete with the delightful excess to be found in the rooms of the Ristorante La Colomba in Venice.
Located very close to the Venetian opera house, La Fenice, this splendid place has been encouraging Italian artists to eat, drink and be merry since 1946. When these creative folk have eaten, drunk and been merry beyond the limits of their purses, the restaurant has sometimes taken a painting in payment for its food and wine. The result is a remarkable collection of art, which – certainly in the room in which I ate – covers the walls as completely as wallpaper. And the adornment is not confined to the walls. Above my head – and taking up most of the ceiling – was a huge abstract work by Franco Renzulli.
Nor have the contributors to this restaurant gallery been entirely Italian. Picasso and Chagall were also here – although, for understandable reasons, their efforts have now been taken away and replaced by copies. Still, lots of originals remain and the atmosphere they create means that a visit to La Colomba is an aesthetic as well as a gastronomic experience.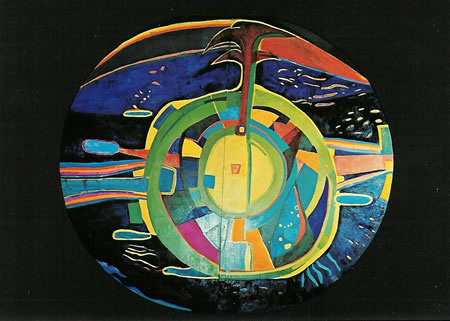 I settled into a high-backed wooden chair – of the sort which might have pleased Charles Rennie Mackintosh. In front of me on the yellow tablecloth were good Spiegelau glasses. Illumination was provided by well-placed spotlights. The Restaurant Manager, Rami Hamam, brought me the menu. Mr Hamam turned out to be a Jordanian. Smartly dressed in black tie, he looked after me in a most friendly and courteous manner. It is one of the pleasures of eating out in Italy that one meets so many charming members of staff.
My meal was old-fashioned and pleasing. Bresaola with Parmesan and a rocket salad was straightforward and tasty. Veal ravioli with a light tomato sauce was enlivened by the addition of a few peas. A chateaubriand brought beef fillet of super tenderness and flavour. I was somewhat surprised to find that the accompanying béarnaise sauce was cold – but, in the event, it worked quite well. The concluding tiramisu from the trolley was excellent – not only rich, but also delightfully bright. (These four courses were 71 euros.)
La Colomba's wine list is more extensive than many in Venice. All its offerings are Italian. They range from a Veneto white at 25 euros to 2001 Ornellaia at 250 euros. 2000 Tignanello is 125 euros and the 2002 Gaja & Rey chardonnay is 126 euros. Many bottles are in the 25-40 euros range. My own drinking began with a grassy, full-bodied, local chardonnay (La Viarte, 2002 – 36 euros), and went on to one of the increasing number of really good Sicilian reds – a lingering, powerful marriage of black cherry and tannin (Radici Taurasi, Bernadino, 2000 – 56 euros).
I enjoyed my evening at La Colomba. I knew I was right. We should eat surrounded by art.
---