ITALY
FLORENCE
HOTEL REGENCY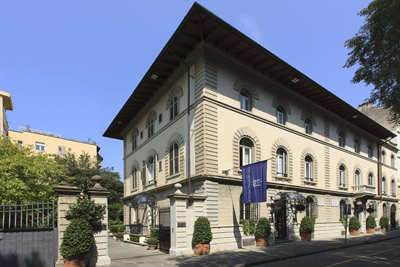 The Hotel Regency in Florence has long been a member of the 'Leading Hotels of the World' organization. And one can see why. It is a mansion full of fine paintings and antique furniture. Built in the 19th Century, for much of its life it was used as a retreat for senior government officials. From precisely what they needed to retreat, I do not know, but they must surely have enjoyed their time at this handsome villa, with its private garden and its quiet location overlooking the public gardens of the piazza Massimo d'Azeglio. I certainly did. And it was a retreat for me, too – not from affairs of state, but from the occasionally crowded wonders of beautiful Florence.
The hotel has just 32 rooms, and my tip would be to book one of the spacious junior suites. I looked at several, and was impressed by the different character and décor of each. My own billet was on the third floor. Room 308 was a "Double Deluxe". (You will need to check the prices for specific dates on the hotel website, but you should think around 400€-500€ for this category of room.) This was an apartment of remarkable quietness, for it was at the back of the building. I judged the dimensions of the bedroom to be 15 feet by 11 feet, with the sense of space increased by the clever use of wall mirrors. The colour scheme of red and gold (for the carpet, the bedspread and the silk on the walls) and white (for the desk and the bedside cabinets) was warm and welcoming.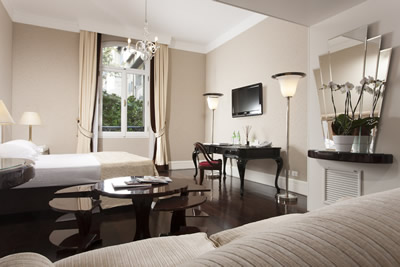 This accommodation was properly equipped, with air conditioning (of course), a private safe, a walk-in wardrobe, three table lamps and two wooden armchairs. The bathroom of grey marble had one wash basin, a bidet, a loo and a capacious bath tub. The toiletries were by Fragonard.
In an hotel of modest size, the concierge is of considerable importance. At the Regency I found the Head Concierge to be a model of efficiency and helpfulness. His name is Alessandro Becattini. I present his photograph to you. His knowledge and hard work made my stay in Florence a particular joy. (He even provided me with an excellent little computer to have in my room, so that I could catch up with my emails.) There is so much beauty to appreciate in the city that it can be bewildering without some help. My own modest piece of advice to you, if you wish to go to Mass on Sunday, is to seek out the church of SS Michele & Gaetano, near the Palazzo Strossi, where you will find a Sung Mass in Latin, according to the Old Rite, at 11.00 a.m.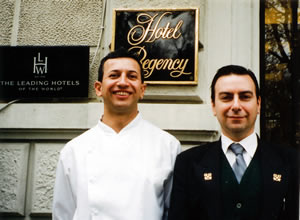 Alongside Mr Becattini in the picture is the Executive Chef of the Regency, Rino Pennucci. The talents of this gentleman from Naples are on display in the hotel restaurant, Relais Le Jardin. Here I breakfasted each morning, and tucked in heartily to bowls of kiwi, melon and pineapple, warm croissants, slices of apple cake and plates of bacon and scrambled egg. I am, as regular readers will know, a 'breakfast person' and I indulged in these happy beginnings to each day at my usual leisurely pace.
[I was not able to have dinner at the hotel on my most recent visit, so the following observations are based upon my previous visit.] In the evening the dining rooms take on a sophisticated air. There are two: the intimate Zodiac room and the terrace. I sat in the latter, and appreciated the abundance of red silk and red velvet and the presence of a red candle on each table. (I think I share with the managing proprietor, Amedeo Ottaviani, a liking for red.) There was canned music, which I dislike, but it was of the Classical sort and therefore tolerable. The napery was off-white and the glassware was by Bormioli. The waiters wore short white jackets with gold epaulettes.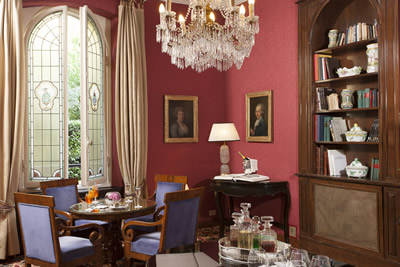 Chef Pennucci told me that he had a simple attitude to Tuscan cuisine, adopting a modern approach to reveal the authentic flavours of local ingredients. This was born out in my dinner of carpaccio of fillet of beef with a citrus flavoured salad, picci (a form of large spaghetti) with rabbit ragout, truffle-filled breast of pheasant with a currant sauce and a pudding of fruit sorbets. (These four courses were 67€.)
The wine list has 80 offerings, most of which are Italian. Prices range from 22€ for a 2008 chianti to 200€ for Dom Pérignon champagne and 194€ for Mr Gaja's 2003 Barbaresco. The Gaja & Rey 2005 chardonnay is 170€ and the 2007 Tignanello is 126€. Sommelier Lorenzo Giumetti looked after me very well, and brought me two bottles of real quality. The sparkling Italian blend of chardonnay and pinot blanc (Bellavista, 2003 - 52€) was light gold, with a sharp and nutty fullness, and the red Tuscan, a blend of merlot, cabernet sauvignon, cabernet franc and petit verdot, from the famous house of Ornellaia (Le Serre Nuove dell'Ornellaia, 2007 - 65€) was rich in ripe black fruit, with much satisfying residual sweetness. This was good drinking.
If you like the idea of staying in a comfortable mansion in a discreet part of Florence, the Regency is the hotel for you.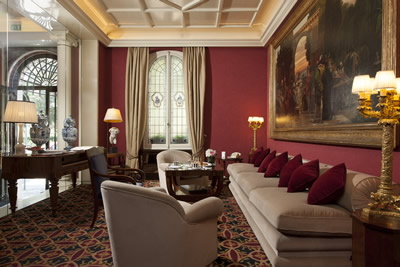 ---