ITALY
FLORENCE
BUCA LAPI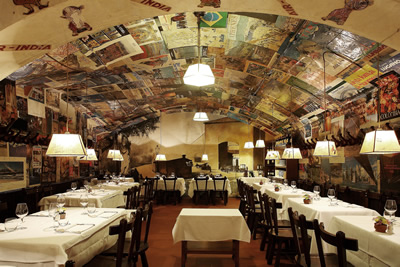 To eat beef in the City of Art those in the know go to Florence's oldest restaurant. Tradition at Buca Lapi is everything. And I say: three cheers for that! Opened in 1880 in the cellars of the magnificent Palazzo Antinori, Buca Lapi ('buca' means 'hole') is famous throughout the world for its beef. Those who love Florence and who love beef – and strange those who, in full possession of their senses, do not do both – come from far and wide to this remarkable gastronomic destination, close to the church of SS Michele & Gaetano, and bring with them the healthiest of appetites. Thus did I present myself for an evening of homage to the cow.
Down a few steep steps at the right hand side of the building, I was within the bovine shrine. The vaults of the cellar have been plastered with posters, some of them quite old. I settled myself comfortably at a table to the left of the stairs. I noted the pleasing contrast between the bright white of the napery and the dense black of the waiters' aprons and I noted, too, the good quality of the Spiegelau glassware.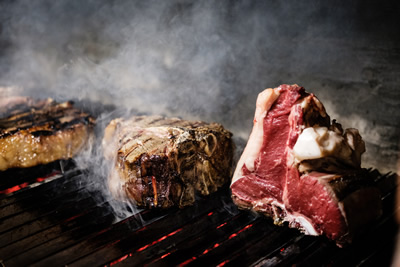 Of course, the best known of the dishes here is the mighty Bistecca Fiorentina (which is 45€ per person, with vegetables an extra 10€ per portion). If you are on your first visit to this dining room, this must be your choice. But, having been before, on my recent visit I decided to try the grilled sirloin (also 45€). This, too, is magical beef and I was full of contentment as I tucked in with happy enthusiasm. Good, too, were the roasted potatoes and the deep-fried onion rings.
I was able to attack the beef with such gusto because I had declined the pleasure of the pastas. Instead, I had confined my pre-meat consumption to a jolly dish of Tuscan beans and tuna. If it seems churlish to disregard the Italian custom of four courses, then I can only plead for forgiveness and understanding. After all, my abstinence allowed me to finish my meal with some wonderful crème caramel and vanilla ice cream.
The wine list has 70 or so offerings. Many of the wines – appropriately for the location – are from the house of Antinori, as was my white, the lovely vanilla-laden Cervaro della Sala from Umbria (2016 – good value at 30€, half). For my red, I quaffed an organic, medium-bodied Tuscan (Rubina, Bulichella, 2015).
Beef. That is why right-thinking folk flock to the oldest restaurant in Florence. The owner, Luciano Ghinassi, is always present to ensure that his guests enjoy themselves. If you love your beef, you should be among their number at Buca Lapi.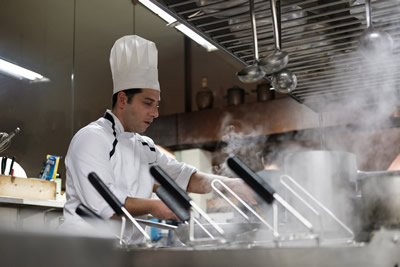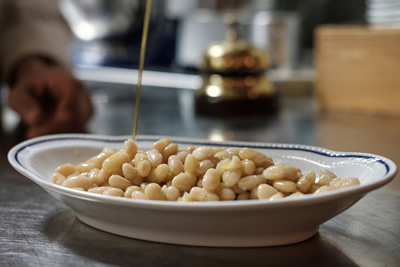 ---
ADDRESSES
BUCA LAPI
Via del Trebbio 1R, 50123 Florence, Italy.
Telephone +39 055 2137 68
Fax +39 055 284 862
Email: bucalapi@gmail.com
www.bucalapi.com
Open for dinner only
Closed on Sundays